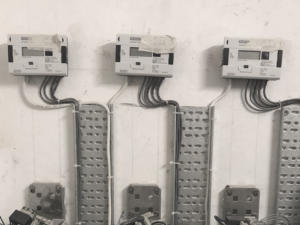 Energy Meter
The flow and energy meter can be used to monitor a wide variety of Heating, Ventilation and Air Conditioning (HVAC) applications including airports, hotels, hospitals and residential developments. The ultrasonic flow meter and energy calculator can be the facility managers with the enhanced ability to measure water flow and energy consumption.
The wall mount clamp-on type ultrasonic flow meter is able for flow measurement on liquids without the temperature or viscosity consideration. The sensor can add the Resistance Temperature Detector (RTD) model and temperature sensor become an energy meter to monitoring and save the energy use. It is suitable for widely application in oil industry, water and wastewater treatment, chemical industry, HVAC and power industries and process control.
Our energy counter can carry out at least every 2 seconds energy calculation which depends on temperature difference, pulse input frequency and legal requirement. The energy meter has the individual tariff function and data logger function, and included the communication over M-Bus, RS485 and RS232. The major industrials are in district heating application, chilled water application and combined cooling/heating application.